Gael Clauson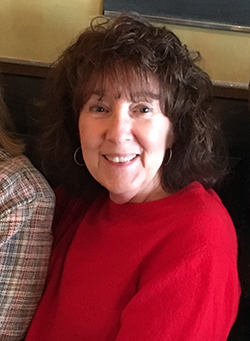 Gael Clauson is a retired speech-language pathologist and reading specialist who has always had an affection for artistic lettering and handmade cards along with watercolor painting. After studying formal calligraphy, she chose instead the playful and creative style of hand lettering to decorate anything she could get her hands on. She is also a self-proclaimed pen/marker hoarder and can be seen stalking stationary stores. Currently the Saturday demonstration baker at King Arthur Flour's Bakers' Store in Norwich, VT, Gael lives in the Upper Valley.
Course Title: Rock Your Writing: Handlettering 101
Participant Testimonials:
"Gael's enthusiasm was contagious and her attitude 'You can do this, too!'"
"Gael is obviously an experienced teacher. Each class was well‐planned and presented, with a nice balance of times for instruction, practice, and sharing."
"Also, it's FUN! Not every OSHER@Dartmouth class has to be academic: this one reached into our creativity and allowed that aspect to shine ‐‐ certainly an important component of healthy aging. 5 stars for sure!!!"