Guy Collins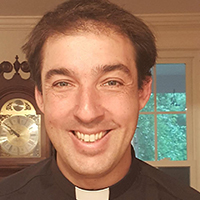 Guy Collins holds degrees in medieval history and theology from the University of St Andrews (Scotland) and the University of Cambridge (England). An Episcopal priest he is Rector of St Thomas Church and Episcopal Chaplain to Dartmouth College. His Ph.D. examined connections between medieval thought and twentieth century Continental philosophy. He is also the author of Faithful Doubt: The Wisdom of Uncertainty. Guy is looking forward to uncovering 'hidden figures' of the Anglo-Saxon world.
Course Title: The English Reformation
Participant Testimonials:
"The Study Leader was extremely knowledgeable and well organized. Great personality. Slides added to presentation. Good use of humor and modern expressions to enliven what could be a dry topic."
"Guy is very clear, organized, and honest about when he is imparting factual material and when he is expressing bias. Very informative, and witty."
"He's fantastic! I loved the course!"