Meg Schmidt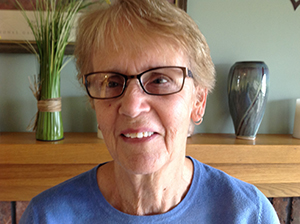 Meg Schmidt, a lifetime reader and enthusiastic advocate of book groups, holds degrees from Gettysburg College and Trinity College. During her professional days, she taught high school English and owned and managed a book store. She and her husband have been residents of the Upper Valley for six years and are active participants in OSHER@Dartmouth.
Course Title: Summertime Book Group: Exploring Four Little, But Mighty, Works of Fiction
Participant Testimonials:
"Bringing a group together, who didn't know each other, is a skill. Meg was able to draw out class members."
"Meg is superb at facilitating discussions, she is a learner herself and followed up each class with previews of the next sessions."
"We had dedicated book lovers in the class who in a relaxed manner offered comments, feelings, reactions about characters etc. about each book."