Thomas B. Campion Award
2021 Recipient: Sarah Chamberlin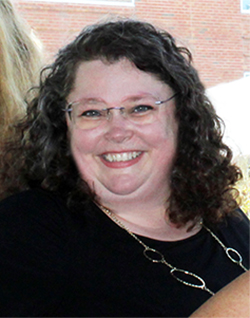 Sarah Chamberlin started working with ILEAD/Osher at Dartmouth in 2012 as an assistant to Lisa King and has developed her skills over the years to assumed the position of Marketing & Communications Coordinator. She always had a talent for computer and graphic design and has taken numerous courses during her tenure to enhance her abilities. The quality of her work can be seen every day in our catalogs and brochures.
Always running a busy schedule that included work on the design of our new space at 1 Court Street, Sarah's responsibilities became even more demanding when the pandemic struck in March 2020 and DOC House emptied out. Sarah stepped up her game once again, mastering the Zoom and webinar formats for virtual learning and took on the task of transforming the way the members of Osher learned. With endless patience, she trained almost the whole of the Osher at Dartmouth community to use Zoom, imparting to Study Leaders the skills to lead, and to members the confidence to engage and participate in online courses. Using her design skills, Sarah rapidly switched the print-based course catalog to a very compelling online production piece that has attracted not only our traditional Upper Valley members to participate in courses but also individuals from across the US and overseas. Bringing this all together, as a result of Sarah's exceptional service Osher members enjoyed courses in 2020-21 in record numbers and have turned a seemingly bleak financial outlook at the start of the fiscal year to a very positive outcome at the end of our fiscal year on June 30, 2021.
Our organization is constantly improving; now we see all the hallmarks of being transformed once more as a result of Sarah's enormous contribution during the Covid pandemic, a service that Sarah has delivered with patience and near endless good humor.
- Iain Sim
2021 Recipient: John Sanders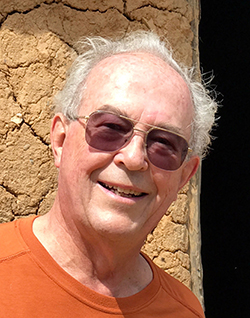 In terms of his service to Osher at Dartmouth, and to our larger community, John Sanders is truly a man for all seasons.
John has served Osher at Dartmouth in a number of critical ways. He has been a course leader, a committee member, member of the leadership council, vice-president, president and now president emeritus. As president John developed a much stronger Osher-Dartmouth relationship that has served us well in a number of areas. In all of these positions, John has served unselfishly and with energy and dedication. In addition, he willingly answers the call to serve on ad hoc committees created to address special matters of importance to our organization.
With the collective knowledge John Sanders has acquired in these endeavors, he has demonstrated the wisdom, insight and judgement that is essential in advancing the goals of Osher at Dartmouth.
John also has introduced the Camden Conference to our membership, and based on his experience as an instructor in the Geisel School of Medicine, has helped us understand the opportunities for hybrid instruction.
John Sanders' volunteer work also extends to our broader community as he participates in the Good Neighbor Health Clinic in White River Junction, offering cardiology care and advice pro-bono to those who cannot afford regular health care.
For all of these contributions to Osher and the larger community, John Sanders richly deserves the Campion Award for 2021.
- Iain Sim