Fall Term
Registration opens Monday, July 22.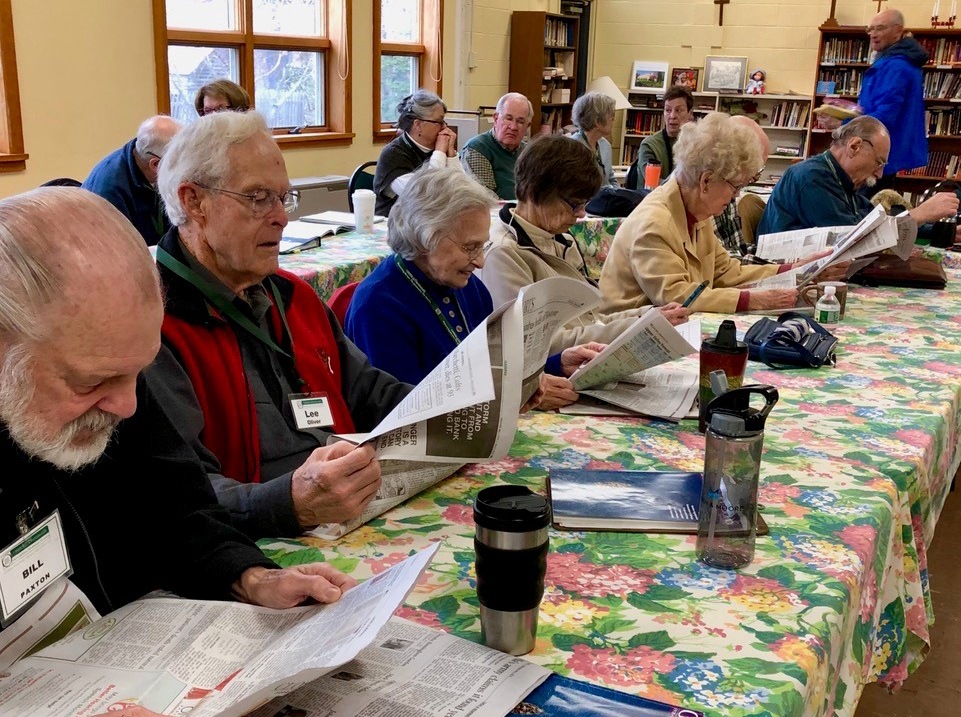 Meet our Study Leaders. Member Testimonial: "Each of the courses I have taken have been better than the course description because the Study Leader brings their energy and uniqueness to the words."
Arts
Backstage@NorthernStage: Contemporary Drama - Jess Chayes
Cons and Cheats, Heroes or Villains? Six Films - Thomas Urgo
Crocheting for Charity - Gail Fancher
Eight (More) Great Knitters - Judith Esmay
Create an Autumn Centerpiece with High Quality Silk Flowers - Priscilla Clark
Films To Delight You, Not Depress You - Mark Lewis
Hand-Building with Clay Slabs - Dianne Burger
How to Navigate the Book Publishing Jungle or What Would William Shakespeare Do? - Sonja Hakala
Intro to Acrylic Paints - Janet Rae
James Joyce's Ulysses: Diving In - James Heffernan
Life, Love, Art and Gardens in the Cornish Art Colony, 1880-1916 - Jo Evarts
Moments of Pure Cinematic Joy! - Don Watson
Not Your Usual Music Appreciation - Moby Pearson
Pushing the Envelope: The Basics of Snail Mail Art - Gael Clauson
Regional Art on the Land - Charlet Davenport
Telluride@Dartmouth 2019 - Richard Neugass
The Art of Cooking for One or Two - Lindsay Smith
The Music of Disney - Ford Daley
The Well-Told Story - Geoffrey Douglas
What's So Funny? A Serious Look at American Humor - Dennis Stern
Current Affairs
An Ailing Healthcare System - Bradley Truax
Factfulness: Ten Reasons We're Wrong About the World - Peter Blodgett
Learning to Have Civil Conversations - Richard Crocker
The Greatest Show on Earth II: The 2020 Presidential Election - Maynard Goldman
The History of the Tour de France - Peter Graves
The Problem of Selective College Admissions - Building a Class - Lewis Greenstein
The State of the Union: A Nation Divided. The Issues Examined - James Wilson
The Trans-Atlantic Relationship - Not a Slam-dunk - Evangeline Monroe
Humanities
Active French: Learn By Doing - Gloria Finkelstein
Atheism, Nihilism, Metaphysics - Guy Collins
From Script to Print: European Cultural Change in Eight Books - Daniel Abosso
Great European Short Stories You Should Have Read - Joe Medlicott
Great Themes of Humanity in the Bible - Reflected in Literature - Heidi Hoskin
Is a Picture Worth a Thousand Words? Reading the Graphic Novel - Rosie Greenstein
Michael Ondaatje: Three Novels and a Memoir - Jonathan Stableford
Postmodern Fiction - Brenda Silver
Shaker Lives from Maine to Kentucky - Kyle Sandler
Shakespeare's Battles of the Sexes - Marilyn Roberts
Short Fiction from the Archives of The New Yorker - Terrance Darcey
The Heroine's Journey - Patricia Cashman
The Timeless Nevil Shute - Laura Schneider
Updike's Short Fiction Brings Middle Class Suburbia to Life - Brian Blanchette
What You Always Wanted to Know About Philosophy But Were Afraid to Ask - Larry Crocker
Whatever Became of Jesus? How American Christianity Lost Its Way - Phil Tierney
Writing in Circles - Stephen Hackman
Writing Poems/Making Them Better - Don Herzberg
Instructional
Beekeeping for Beginners - Barbara Bazarian
Beginning Stock Market Investing for Women - Joanie Miller
DNA & Genealogy - How it Works - Lana Leggett-Kealey
Financial Workshop - Dan Willis
Geocaching: Treasure Hunting with a Purpose - Roger Dontonville
How Much Money is Enough to Retire? - Evan Roberts
Introduction to Curling - Peter LaBelle
Mah Jongg for Beginners - Elinor Gregor
Mindfulness Meditation: Establishing or Deepening a Daily Practice - Stephen O'Dwyer
How a Plant-Based Diet May Help Prevent, Treat, and May Even Reverse Chronic Disease - Beth Perera
Teach a Class for Osher? How to Launch a Course! - Martha Lorden
The History of American Skiing, Thru the Dartmouth Lens - Peter Graves
Useful Tools for Aging with Dignity - Richard Davis
Wikipedia - A Look Under the Hood - Stephen Flanders
Interdisciplinary
A Naturalist's Guide to Field Journaling - Aliette Frank
Artificial Intelligence Is Finally Here – Now What Happens? - Paul Morrison
Bread and Soil in Ancient Rome: Environmental Challenge and Cultural Response - Bruce James
Climate Change Update: What Do We Need to Know? What Can We Do? - Robert Taylor
Creativity Spirituality Reality - Charles Johnson
Desert Dreams: The American Southwest Sonoran Desert - Judith Reeve
Feeding Africa – GM Foods and American Foreign Policy - David Henderson
"How to Trace Your Jewish Genealogy" - Sallyann Sack
Introduction to Augmented, Virtual, and Mixed Reality - Amanda Albright
Living Life While Facing Death: Comparing the World Religions - Phil Tierney
Mercury, Gemini & Apollo, NASA's Golden Age: A 50-Year Retrospective - Dan DeMars
The Interactive Voice - Robert Kalm
The Medieval Age: Crises and Conflicts - Art Rosen
Women Challenging and Changing Power Around the World - Valerie Miller
Natural Science
Emergency Room II - Bob Christie
Everything You Wanted to Know About Stem Cells, But Were Afraid to Ask - David Pratt
How to Build a Habitable Planet - Martin Smith
Introduction to Birding - Gail McPeek
Understanding and Applying the Science of Brain Health - John Randolph
Weeds and Seeds: Autumn Botany - Jim Kennedy
Social Science
A Habit of Rebellion? America in Crisis 1785-1795 - Vic Henningsen
A National Treasure: The Appalachian Trail (and Random Acts of Kindness) - Greg Cook
America's Reluctant Rise to World Leadership - Bob Rougvie
And the Walls Came Tumblin' Down: 1989 and the Year That Changed the World - Eugene Lariviere
Does the U.S. Constitution Need a Tune-up? - Alan Schnur
Finding the Political Center - Rachna Shah
From Cinderella to Easy Rider: A Film Series - Beverly Marshall
On Independent Thought and Imagination - Werner Kleinhardt
One-Term Presidents - Steven Tofel
The First IT Revolution: Inventing Written Language - Barbara Butler
The Last Years of the Romanov Family 1916- 1918 - Laurence Harper
Thomas Jefferson: The American Enigma" - James Bays
Thucydides and the Peloponnesian War - Steve Rounds
What's Happened to Our Game? - Rick Hutchins
Woodrow Wilson and the First World War - Bob Jakoubek
Password Reset Guide
If you're having trouble with your online account password, click here for a guide on re-setting your password!
Term Dates
Fall 2019: September 16 - November 15, 2019
Winter 2020: January 13 - March 13, 2020
Spring 2020: March 23 - May 29, 2020
Fees
Annual Membership: $70 (July 1 - June 30, 2020)
Dartmouth College/DHMC staff, faculty, and students please call 603-646-0154 to join our program.

Course Fees:
8 hours or less: $40
10-12 hours: $60
14 hours or more: $80
Course Materials
Welcome Letter: supplied prior to the first class session via e-mail and/or post. (Depends on the preference of the registrant.)
Reading Packets: Compiled by the Study Leader prior to the first class. (If the Study Leader is relying on current news items, materials may be distributed on a weekly basis.)

Requests for printed copies of materials must be made at least 24 hours in advance of pick-up.
If printed materials exceed 50 pages, a fee will apply.
Policies
Visit Policies page to read:
Code of Conduct
Financial Aid
Food and Drink
Lab & Material Fees
Name Badges
Photographs & Videos
Protocol for Emergency Medical Situations in Class
Refund Policy
Registration
Sexual Harassment Statement
Catalog Cover Submissions
Every term, we invite members of OSHER@Dartmouth to submit images for consideration for the cover of our upcoming catalog. If your image is selected, it will appear on the next catalog cover and you will receive a voucher to cover the cost of one OSHER@Dartmouth course.
Criteria:
Contents must be your original work.
Contents should be suitable for viewing by all ages.
Other than that, it's up to you!
How to Submit:
Make sure you have a digital file of your submission. You can send a jpg/jpeg, a PDF, or a native Photoshop file. (Don't forget, you can use your iPhone or other smartphone to take a photo of your artwork and email it to us!)
Test the file - you should be able to print your image on a standard 8.5"x11" sheet of paper. It should fill at least 3/4 of the page and print clearly - no blurring.
Your image should be presented in "portrait" mode.
Email your file to sarah.chamberlin@dartmouth.edu.
The OSHER@Dartmouth office will announce the winner via our weekly newsletter.
Catalog Archive
For a list of past catalogs, see Catalog Archives.
7 Lebanon Street, Suite 107, Hanover, NH 03755-2112Monday – Thursday: 8:30 AM – 4:30 PM • Fridays: 8:30 AM – 1:00 PMosher@dartmouth.edu • osher.dartmouth.edu • (603) 646-0154