Course Information
Term Dates
June 22 - September 4, 2020
Fall 2020
September 8 – November 20, 2020 (No Classes on September 28: Yom Kippur)
Registration Opens Monday, July 20
Take a look at our Fall 2020 Course Catalog: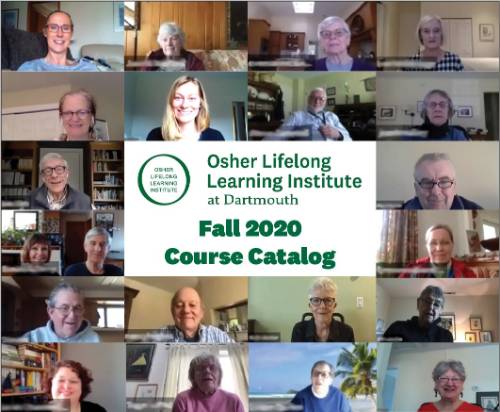 Member Zoom Training Session
Thursdays
10:00 AM - 10:30 AM
Join zoom meeting here.
Pre-registration is not required.
The training session will go over the Zoom application and specifically how to participate in Osher classes on Zoom.
Zoom Cafe
Fridays
10:00 AM - 10:30 AM
Join zoom meeting here.
Pre-registration is not required.
This cafe session is for members to ask questions about Zoom and practice using the Zoom features.
Before you register...
Log in to your account and verify your membership status. You must have an active Osher at Dartmouth membership to register for a course.
Have a question?
Visit our Policies page for information about registration, wait lists, reading materials, and more!
Fees
Annual Membership: $70 (July 1 - June 30, 2021)
Course Fees - New Rates for fall 2020 classes
8 hours or less: $45
10-12 hours: $65
14 hours or more: $85
Dartmouth College/DHMC staff, faculty, and students please call 603-646-0154 to join our program.
Course Materials
Welcome Letter
Supplied prior to the first class session via e-mail.
Reading Packets
Compiled by the Study Leader prior to the first class and supplied in the Google Drive folder or via email. (If the Study Leader is relying on current news items, materials may be distributed on a weekly basis.)
Catalog Cover Submissions
NOTE: We are not requesting submissions for our Fall 2020 catalog cover.
Every term, we invite members of Osher at Dartmouth to submit images for consideration for the cover of our upcoming catalog. If your image is selected, it will appear on the next catalog cover and you will receive a voucher to cover the cost of one Osher at Dartmouth course.
Criteria
Contents must be your original work.
Contents should be suitable for viewing by all ages.
Submission Process
Make sure you have a digital file of your submission. You can send a jpg/jpeg, a PDF, or a native Photoshop file. (Don't forget, you can use your iPhone or other smartphone to take a photo of your artwork and email it to us!)
Test the file - you should be able to print your image on a standard 8.5"x11" sheet of paper. It should fill at least 3/4 of the page and print clearly - no blurring.
Your image should be presented in "portrait" mode.
Email your file to sarah.chamberlin@dartmouth.edu.
The Osher at Dartmouth office will announce the winner via our weekly newsletter.
Heading 2
This is an additional content region that can be used to reconfigure the page to a two column layout. You can change this to a two column layout with the following steps:
Make sure the page is checked out.
Click the "Properties" button at the top of the page (next to Edit and Publish).
Choose "Two Columns with Sidebar" from the Page Layout dropdown.
Save.