November: Lectures & Events
Spring Course Proposals Due
Submit a spring course proposal by November 1.
Film Premiere: Enchanted Hills: Legacy of an Art Colony
Wednesday, November 6
7:00 PM
Black Family Visual Arts Center
Enchanted Hills: Legacy of an Art Colony is a feature-length documentary film telling the story of the distinguished circle that settled along the Connecticut River in the foothills of Mount Ascutney during the Gilded Age. Among the residents were artists, writers, architects, dancers, musicians, actors and naturalists. Their legacy includes the Appalachian Trail, America's National Park System, Wilderness Society, Audubon bird sanctuaries, public gardens, monuments, and an "American" style of music. Narrated by television, film, and stage actor Jonathan Farwell.
This documentary is an expanded version of a 20-minute film. It includes new video footage, images, narrations, and specially recorded music.
Free and open to the public.

New Brain Revelations: Science by Looking
Thursday, November 7
4:00 PM
Life Sciences Center 100
This special OSHER@Datmouth lecture, by an internationally acclaimed research scientist and teacher, will examine how the brain constructs what we see when looking at the most compelling of visual illusions: art, where impressions of depth and light arise from nothing more than pigments on a flat surface. The speaker will show how to use art and illusions to do "science by looking," unlocking the basic rules of the visual brain that were discovered by artists.
Patrick Cavanagh is a Senior Research Fellow at Glendon College, York University in Ontario, Canada and a Dartmouth College Research Professor. He has pioneered new directions in brain research including using art to reveal new data sources for neuroscience. A Canadian native, he holds an undergraduate engineering degree from McGill University and a PhD in Cognitive Psychology from Carnegie-Mellon University. He previously was a professor at the University of Montreal, Harvard University and the University of Paris. He has an Honorary Doctorate from the University of Montreal and was recently elected a Fellow of the Royal Society of Canada.
Free and open to the public.

Fall Term Ends
Friday, November 15
On the Waterfront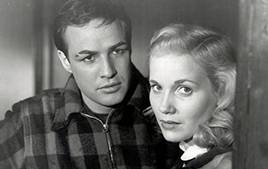 Wednesday, November 20
1:00 PM
Nugget Theaters
Register here. Limited seating available.
An ex-prize fighter turned longshoreman struggles to stand up to his corrupt union bosses.
Starring: Marlon Brando, Karl Malden, Lee J. Cobb
Free and open to the public. Free popcorn and drawing for Nugget Theater gift card.

Upcoming Events
7 Lebanon Street, Suite 107, Hanover, NH 03755-2112
Monday – Thursday: 8:30 AM – 4:30 PM • Fridays: 8:30 AM – 1:00 PM
osher@dartmouth.edu • osher.dartmouth.edu • (603) 646-0154