Cassandra Williams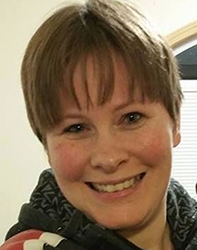 Cassandra Williams is the Mobile Supervisor for Best Buy in West Lebanon. She has been with the company for over 9 years and has wide-ranging experience dealing with computers, phones, and other tech! She was previously a repair agent for Geek Squad and is iOS certified. She recently taught the Study Leader workshops on both Keynote and Intro to Mac for OSHER@Dartmouth.

Course Title: iPads for Advanced Beginners
Participant Testimonials:
"She has the positive, can-do attitude of a problem solver - an attitude I am working on with respect to technology."
"Cassie as a natural teacher! Rather than a structured syllabus, she based classes on questions raised by students. I appreciate this 'freedom' to move in the direction expressed by the students."