Jo Tate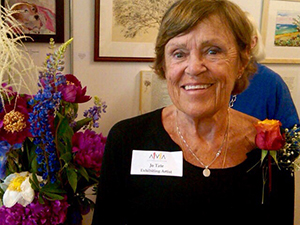 Jo Tate graduated from McGill University Montreal, studied at St. Martin's School of Art in London, and got her M.A. in Education at the University of Bridgeport, CT, and Silvermine College of Art. She taught and painted in CT before retiring to Norwich and AVA Gallery in Lebanon, NH, where she has exhibited and taught since 2000. She is a member of art societies in VT and CT. Her works appear in private collections and she loves creating animal portraits.


Course Title: Travel Journals (Fall Term 2018)
Participant Testimonials:
"Jo is an excellent and encouraging teacher as well as a talented artist."
"Jo has a very positive attitude and confidence which she imparts in her students."