Camden Conference
2023 Conference: February 17-19
Special offer for Osher at Dartmouth members!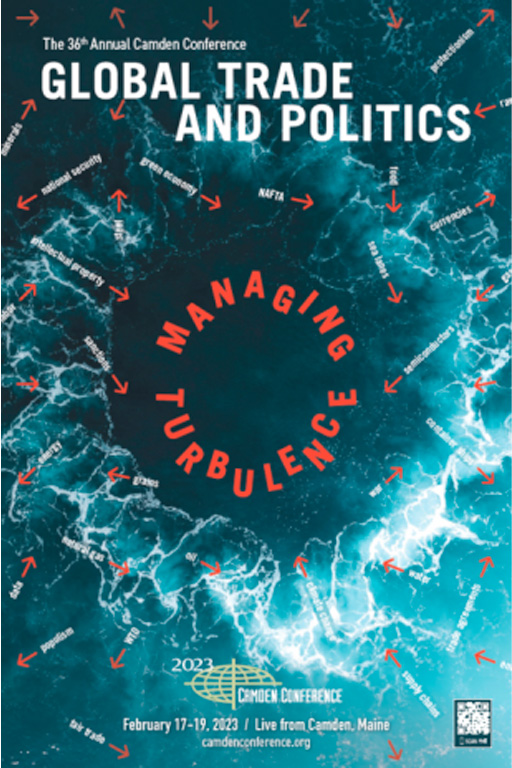 Osher Member Special Offer
We are offering ticket-holders the chance to watch the conference from our largest classroom at 1 Court Street in Lebanon, NH. You need to purchase your tickets through the Camden Conference website, then contact the Osher office via email at osher@dartmouth.edu to reserve a seat.
NOTE: Purchase the 'Virtual Access' admission if you are planning to join us at 1 Court Street.
This is a great chance to watch the conference and discuss the topics with other attendees!
Space at Court Street is limited; reservations are required. Proof of registration through Camden is also required. (You'll be asked to present your receipt or proof of purchase of admission from Camden while checking in at 1 Court Street.)
AGENDA
Friday, February 17
7:30 PM - Welcome & Opening Remarks

Keynote Address: Peter S. Goodman - Is Globalization Over? (Spoiler: No)
Discussion & Questions

9:00 PM - Adjourn

Saturday, February 18
8:45 AM - Preview of sessions - David Brancaccio

Douglas Irwin - The Politics of Trade
Discussion & Questions

10:00 AM to 10:30 AM - Break

Caroline Freund - What Future for Globalization
Simon Evenett - People Who Live in Glass Houses…
Discussion & Questions

12:00 PM to 1:30 PM - Lunch

Mark Wu - From Rules-Based to Security-Oriented Trade Governance
Ajay Chhibber - Will India Become an Economic Superpower…

2:45 PM to 3:15 PM - Break

David Autor - The Enduring Economic and Political Consequences of the China Trade Shock
Paul Solman - Six Horsepersons of the Apocalypse…
Discussion & Questions

4:30 PM - Adjourn

Sunday, February 19
8:45 AM - Begin

Jennifer Hillman - How Do We Get to an Inclusive and Sustainable Trading System…
John E. Sununu - The Changing Politics of Global Trade…

10:30 AM to 11:00 AM - Break

Acknowledgements - Karin Look, President, Camden Conference
Panel of all speakers

12:30 PM - Adjourn

Saturday Luncheon
We are reserving space for a group lunch at Salt Hill Pub between the Saturday morning and afternoon sessions of the conference. Please indicate in your RSVP if you would like to join us. A special menu and rates will be available for our group; you will be responsible for the cost of your meal and beverage selections.
(Don't forget to purchase a 'Virtual Access' ticket.)
(Don't forget to mention if you'd like to join us for lunch on Saturday!)