Camden Conference
2022 Conference Online: February 25-27
Registration: $150
Special offer for Osher at Dartmouth members!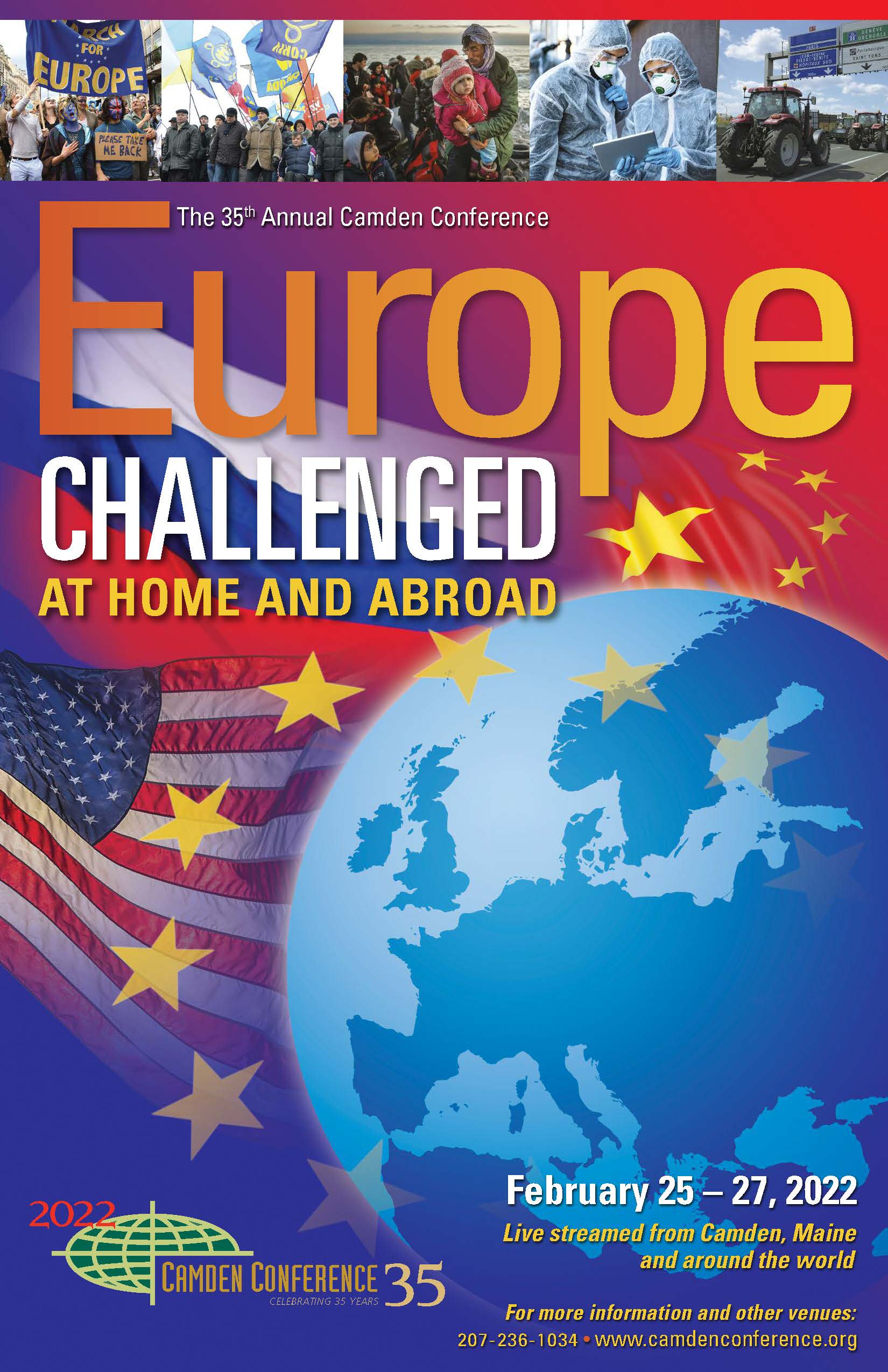 Osher Member Special Offer
Through a partnership with the Camden Conference, we are offering the first 100 Osher at Dartmouth members who register for the Camden Conference a $75 credit for an Osher course to use in the Spring 2022, Fall 2022, or Winter 2023 term. When registering, please select 'General Public' registration type and then use the sponsor code: OSH.
After registering, please email a copy of your receipt to osher@dartmouth.edu to receive your $75 course credit on your Osher at Dartmouth account. You may then call us to register for a course using the credit.
The Camden Conference was founded in 1987 as a nonprofit, non-partisan educational organization whose mission is to foster informed discourse on world issues.
The 2022 Camden Conference theme will be Europe today – what is happening and what we can anticipate. Europe's leaders and citizens are facing pervasive economic, political and social challenges, some exacerbated by the global pandemic. How cohesive is the European Union? Where are populist movements headed, and where are democratic institutions under threat? What will happen to the European-United States bond as a new generation of leaders pursue their own agendas with Russia, China, and other countries? When can we rely on Europe, and can Europeans rely on us?
Keynote:
Stavros Lambrinidis is the Ambassador of the European Union to the United States, as of March 1, 2019. From 2012 to 2019, he served as the European Union Special Representative for Human Rights. In 2011, he was Foreign Affairs Minister of Greece. Between 2004 and 2011, he was twice elected Member of the European Parliament (MEP) with the Greek Social Democratic Party (PASOK). He served as Vice-President of the European Parliament (2009-11), Vice-President of the Civil Liberties, Justice and Home Affairs Committee (2004-09), and Head of the PASOK Delegation (2005-11).
Moderator:
David Brancaccio is host and senior editor of American Public Media's Marketplace Morning Report. He anchored the award-winning public television news program NOW on PBS until 2010. His reporting has focused on the future of the economy, regulation of financial markets, the role of technology in labor markets, human rights, the environment, and social enterprises.
Othon Anastasakis is the Director of South East European Studies at Oxford University and Senior Research Fellow at St. Antony's College. He is also an Adjunct Professor at Simon Fraser University in Vancouver, a Visiting Professor at the Prague School of Economics, and a Region Head of Europe at Oxford Analytica.
Mark Blyth is Director of Brown University's William R. Rhodes Center for International Economics and Finance and William R. Rhodes '57 Professor of International Economics, with a joint appointment in political science. Dr. Blyth studies how uncertainty and randomness impact complex systems, particularly economic systems, and "why people continue to believe stupid economic ideas despite buckets of evidence to the contrary."
Judy Dempsey is a Nonresident Senior Fellow at Carnegie Europe and Editor in Chief of the Strategic Europe blog, which has been an important resource on European affairs since 2012. She is also the author of the book The Merkel Phenomenon (Das Phänomen Merkel, 2013).
Ambassador John E. Herbst is senior director of the Atlantic Council's Eurasia Center and served for thirty-one years as a foreign service officer in the US Department of State, retiring at the rank of career minister. He was US ambassador to Ukraine from 2003 to 2006, when he worked to enhance US-Ukrainian relations, help ensure the conduct of a fair Ukrainian presidential election, and prevent violence during the Orange Revolution. Prior to that, he was ambassador to Uzbekistan (2000-03), where he played a critical role in the establishment of an American base to help conduct Operation Enduring Freedom in Afghanistan. He also promoted improved US-Uzbek relations, in part by encouraging the government in Tashkent to improve its human rights record.
Mark Leonard is the director and co-founder of the European Council on Foreign Relations, a council of 300 European leaders including serving and former presidents, prime ministers, economics and foreign ministers. His expertise and interests include geopolitics and geoeconomics, China, EU politics and institutions.
Douglas E. Lute is Chair, International and Defense, BGR Group, and CEO, Cambridge Global Advisors, LLC. He is McDermott Distinguished Chair of Social Sciences, United States Military Academy, West Point, and Senior Fellow, Belfer Center, Kennedy School of Government, Harvard University. He is also Senior Advisor, Jones Group International.
Daniela Schwarzer is executive director for Europe and Eurasia of the Open Society Foundations. An expert in European affairs and transatlantic and international relations. Prof. Dr. Schwarzer is an honorary professor of political science at Freie Universität Berlin and a senior fellow at the Harvard Kennedy School's Belfer Center.

Constanze Stelzenmüller is the inaugural holder of the Fritz Stern Chair on Germany and trans-Atlantic Relations in the Center on the United States and Europe at Brookings. She was a speaker at the 2015 Camden Conference on Russia.
Pierre Vimont is a senior fellow at Carnegie Europe. His research focuses on the European Neighborhood Policy, trans-Atlantic relations, and French foreign policy.