Osher at Dartmouth Style Guide
This page is designed to provide Osher at Dartmouth members and volunteers with a foundation on which to build outreach efforts. The goal is to present a consistent, confident, and welcoming identity for the Osher at Dartmouth program.
Logo

The Osher Lifelong Learning Institute at Dartmouth logo follows standards established by Dartmouth College. The logo should be used in its entirety to represent our program; it should not be separated or cropped in any way. It can be enlarged or shrunk provided its appearance maintains the visual ratios established in the image above.
While our standard logo uses Dartmouth Green as its main color, we also utilize a black version and a white version in projects where color is not possible: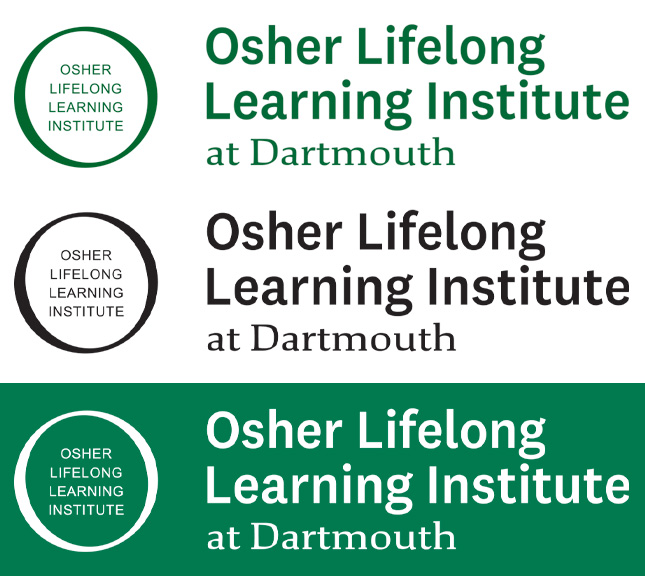 Contact Program Manager Sarah Chamberlin if you need to utilize the Osher at Dartmouth logo in any promotional efforts or formal communications. She can supply an image file or a copy of our official letterhead to committee members. Whenever possible, Sarah or Program Director Lisa King should be made aware of any outreach prior to delivery of the item(s) in question.
Our Organization's Name
When referencing our organization in written communication, there are a few Dos and Don'ts to keep in mind.
Do
Try to use our full title the first time it appears in written communication: Osher Lifelong Learning Institute at Dartmouth
Use the shortened version of our title in subsequent appearances in the same communication: Osher at Dartmouth
Don't
Utilize all-caps when referencing our program title (for example, "OSHER at Dartmouth" does not match our current identity, and in fact has contributed to a misconception that our name is an acronym)
Use the @ symbol when referencing our program title in formal communications or publications (ex: Osher @ Dartmouth, Osher@Dartmouth, O@D)*
*Use of the @ symbol or shorthand O@D title is acceptable in internal or private communications.
Typography
Whenever possible, we utilize a serif font (Dartmouth Ruzicka) and a sans serif font (National 2) in written communication. Both fonts are available to Dartmouth staff and faculty; our office can format documents for you using both fonts. If those fonts are not available for volunteer use, alternative options are:
Serif
Georgia (as an alternate for Dartmouth Ruzicka)
Sans Serif
Arial (as an alternate for National 2)
Catalog Rules
When formatting our course catalogs, we try to adhere to the following rules whenever possible.
Professional degree abbreviations are presented without punctuation (MBA, PhD, BA)
State name abbreviations are presented without punctuation (NH, VT, MA)
Abbreviations of the United States of America are presented without punctuation (US, USA)
The article preceding a degree will vary depending on how the degree is referenced in the text (ex: "a Master of Arts"; "an MA")
We are stubborn users of the Oxford comma