Directions & Parking
Office Hours
Monday through Thursday from 8:30 AM – 4:30 PM.
Friday from 8:30 AM – 1:00 PM.
Parking
NOTE: Beginning May 1, 2023, Court Street is closed to traffic to provide seasonal seating for Three Tomatoes. The street will be open again in the fall. You can still access parking using Campbell, Flynn, and Taylor Streets. Visit the City of Lebanon website for more information.
Parking in Lebanon is free. The city offers both dedicated parking lots and curbside parking, all within easy reach of One Court Street, which is located at the northwest corner of Colburn Park. (Court St. is also at the eastern end of the pedestrian mall.)
The Court St./Flint St. lot is immediately adjacent to One Court Street.
The Riverside lot (a.k.a. Taylor St. lot) is one level below Court Street.
Both Hanover St. lots are at the western end of the pedestrian mall.
Curbside parking is available on the streets at the western, southern, and eastern edges of the park, as well as along Bank St. (Route 4) and Campbell St.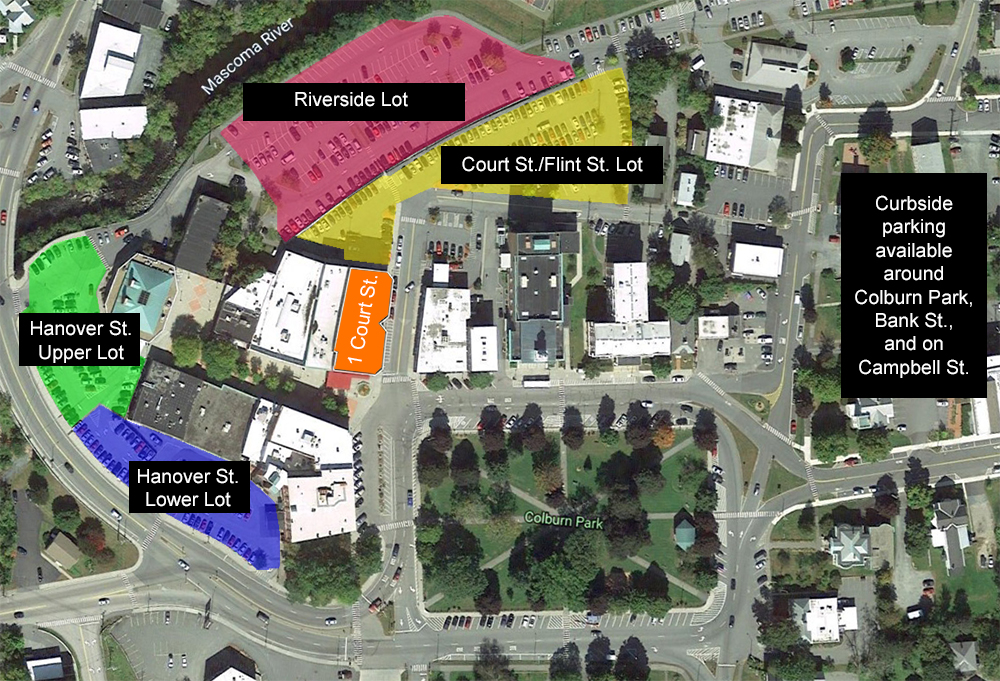 Please note that the labels on the map above are not official, and are only used for identification in this document. For example, the lot listed above as Riverside is also known as the Taylor St. lot.