Gael Clauson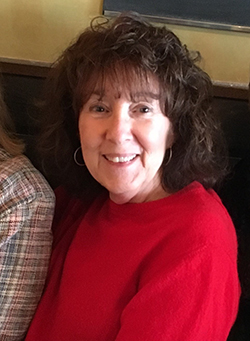 Gael Clauson is a retired reading specialist who has an affection for lettering and watercolor. She is also a self-proclaimed pen/marker hoarder and can be seen stalking stationary stores. Gael lives in Vermont and enjoys crafts of all sorts.
Course Title: Tear It Up 2: Multi Media Collage with Gael and Patti (Spring Term 2023)
Participant Testimonials:
Patti and Gael are so knowledgeable and bring many examples of work. They also provide a vast amount of materials for us to us.

Both Gael and Patti are very well versed in all the projects we did, and had all the materials needed.
Course Title: Let's Tear It Up: Multi-Media Collages with Patti and Gael (Winter Term 2023)
Participant Testimonials:
Once again Gael and Patti have offered a fun, inviting, uplifting learning experience. They are so welcoming and inclusive, it is a joy to be in their classes.

I really enjoyed making a collage booklet with pamphlet stitch as our final project. This was a delightful surprise, I'd like to create more of these.
Course Title: Here and There: The Traveling Sketchbook Journal (Fall Term 2022)
Participant Testimonials:
I enjoy the atmosphere in Patti and Gael's classes. They are supportive, friendly and knowledgeable.

Gael and Patty are a wonderful duo. They are great fun to learn from. I have enjoyed all of their classes.

Course Title: Sketchbook Journaling: My Favorite Things (Spring Term 2022)
Participant Testimonials:
Exceedingly well designed with each session a new "favorite" activity.

This course surpassed my expectations. I couldn't have asked for a better introduction to keeping a personal and stylized sketchbook.