Gael Clauson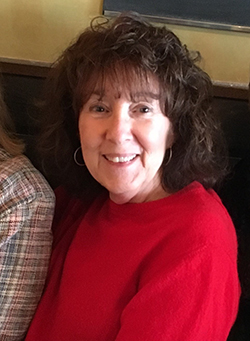 Gael Clauson is a retired reading specialist who has an affection for lettering and watercolor. She is also a self-proclaimed pen/marker hoarder and can be seen stalking stationary stores. Gael lives in Vermont and enjoys crafts of all sorts.
Course Title: Sketchbook Journaling: My Favorite Things (Spring Term 2022)
Participant Testimonials:
Exceedingly well designed with each session a new "favorite" activity.

This course surpassed my expectations. I couldn't have asked for a better introduction to keeping a personal and stylized sketchbook.
Course TItle: Sketchbook Journaling with Watercolor and Hand Lettering (Fall Term 2021)
Participant Testimonials:
The duo, Patti and Gael, work so well together complementing their expertise and presenting it seamlessly to the class. They bring energy, positivity, and creativity to a well paced class outlined to the class. You can't get any better.

This course was excellent. Both of the instructors were knowledgable and very engaging. I thoroughly enjoyed it, even as a newbie.
Course Title: Sketchbook Journaling: Using Watercolor and Hand-Lettering to Explore and Remember (Spring 2020)
Participant Testimonials:
Gael and Patti are GREAT teachers.

Really fun all around. We were shown "how-to" and then had time to practice, always being encouraged!
Course Title: Rock Your Writing: Hand Lettering 101 (Spring Term 2019)
Participant Testimonials:
Gael was very actively involved in showing us the different styles of lettering and how best to use them while we were practicing. She is so creative.

Gael was attentive to all levels and needs, and her enthusiastic interactions were truly inspiring. She even came in early to help a classmate with difficulties.