Gail Fancher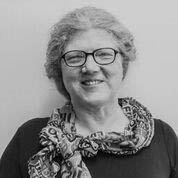 Gail has been knitting and crocheting for a half century. She's eager to teach. A veteran, former member of 4-H, mother, spouse, and physician, she believes you can knit or crochet anywhere, any time. Knitting and crocheting are relaxing and satisfying.
Course Title: Crafting for Charity (Fall Term 2020)
Participant Testimonials:
Gail was always prepared to answer questions in a very supportive way and was prepared each week for the topic.

Gail was very knowledgeable in this craft and very encouraging to others.
Course Title: Knit and Crochet for Charity (Winter Term 2020)
Participant Testimonials:
Gail's knowledge of crafts is broad. More importantly, her enthusiasm and empathy for others is inspiring.

Instructor sensitive to needs of very different levels of competence and interests