Gloria Finkelstein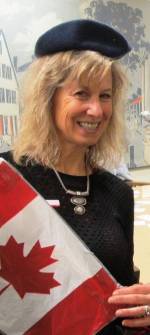 Gloria grew up in Montreal, lived in Paris, and has frequently traveled to France. She is the creator of "French Club with Madame G," an innovative learning-by-doing immersive language arts program. Gloria enjoys helping others discover and experience French culture and lifestyle via Upper Valley French-themed programs at the Howe Library, Coop Food Store, Robert's Flowers, Hanover Farmer's Market, and Dartmouth Greenhouse. Gloria is a graduate of McGill University and Columbia University.
Course Title: Active French (Fall Term 2021)
Participant Testimonials:
Gloria adapted our time together to provide fun ways to get us speaking french. She adds resources we would have difficulty finding on our own. Tres interesant!

Well prepared and always ready to answer any questions.
Course Title: L'hiver: French-themed Cooking Workshop (Winter Term 2020)
Participant Testimonials:
Gloria is great. I loved some French language in between her instuctions.

Impossible not to be pulled in by Gloria's enthusiasm! She seamlessly blends in French words and expressions into the flow of the class.
Course Title: Active French: Learn By Doing (Spring Term 2019)
Participant Testimonials:
Gloria was wonderful at encouraging us to just do what we can without fear and at working with a diverse class.

Gloria created a wonderfully, supportive and non-judgmental environment for speaking the language no matter how rusty or limited was one's ability. I really appreciated that approach.