Jo Evarts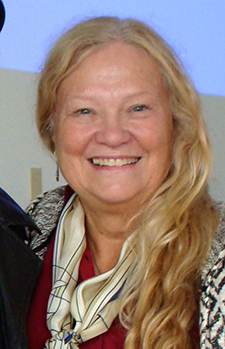 Jo Evarts earned her B.A. in English and Art History from Wellesley College, and her Ed.M. from Harvard. The Cornish Colony is an area of particular interest to Evarts. Evarts is the editor and publisher of The Complete Hoot, the comprehensive online calendar and information on the arts and events in the Upper Valley (www.thecompletehoot.com).
Course Title: Born in the USA: Nature, Enlightenment, and the Hudson River School of Painting
Participant Testimonials:
"Jo is an excellent Study Leader with a great choice of course materials and the ability to elicit extensive classroom discussion."
"Jo is extremely knowledgeable and I felt privileged in each class to hear her presentation."
"Certainly Jo's intellectual insights on so many topics was a highlight of this course. The class was engaged and worked well together, with members offering thoughtful comments. Jo was an excellent facilitator, encouraging class participation."
"Jo Evarts is the best teacher I've ever had. She has a remarkable intelligence as well as a serious interest in class participation. What a likeable person!"