Peter Concilio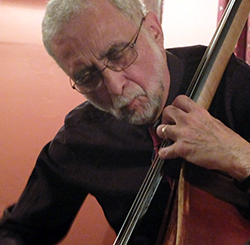 Peter Concilio is a freelance bassist who has been inspired to study his craft ever since his youth in New Haven, Connecticut, where the black underground gathered to play the music called "bop." He appears regularly at Skunk Hollow Tavern in Hartland, and feels privileged to perform with local jazz artists in and around the Upper Valley.

Course Title: Jazz: Birth of the Cool (Spring Term 2018)
Participant Testimonials:
"Peter is well-organized, extremely knowledgeable, brought in amazing guests, had fantastic music - his computer worked well - no glitches!"
"I loved this course and learned so much! It was great to have such an expert leader and participation from knowledgeable people in the class. The performers that came in were an excellent addition. Good examples of different styles were played in class."
"Peter takes the course very seriously and has a great deal to share."