Rob Nawojchik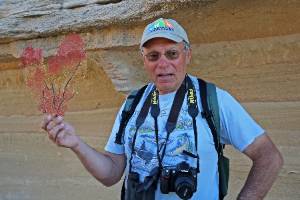 Rob Nawojchik received a B.S. in biology (ecology and evolution) from Cornell University and an M.S. in systematic ichthyology from the University of Washington. For 14 years, Rob was the Staff Biologist at the Mystic Aquarium in Connecticut, where, in part, he coordinated the marine mammal and sea turtle stranding program for Connecticut and Rhode Island. Following his work at the Aquarium, Rob was a Senior Marine Biologist at an environmental consulting firm in Texas. For the past decade, he has lived in the Upper Valley and does free-lance projects. He leads several trips a year to Baja California to observe and photograph whales and other marine life.


Course Title: Marine Mammal Biology (Spring Term 2022)
Participant Testimonials:
It was one of the best courses I have ever taken at OSHER.

It's always interesting to broaden one's knowledge of things in nature and how they are affected by man. Rob's vast experience with Marine Mammals was portrayed so very well by his course.

Course Title: Whales, Dolphins, Seals, & Sea Lions: The Biology of Marine Mammals (Spring Term 2018)
Participant Testimonials:
Study Leader was very knowledgeable and enthusiastic.

He has so much experience in his field that he loves to share with his
audience. He also tried to tailor his presentation to the particular interests of the class members.

The study leader was enthusiastic, personable and knowledgeable. He made it easy to ask questions. His organization was clear because he followed the species list he gave us. He encouraged e-mails between classes with questions or requests for further information and did an excellent job of responding. He also did an excellent job integrating conservation and other timely issues into his discussions of particular marine mammals.

Rob is an amazing teacher- knowledgeable and passionate about the subject-enjoyed every moment of every class and learned so much I never was aware of- he is a gem!