Alan Fuchs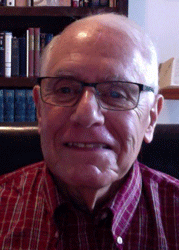 Rabbi Alan D. Fuchs is Rabbi Emeritus of Congregation Rodeph Shalom in Philadelphia—a native of Hartford, CT. Following graduation from Trinity College, he entered Hebrew Union College in Cincinnati, receiving an M.A.H.L. degree and ordination. He and his wife Carol lived in the Hanover area for many years after his retirement, where he taught numerous Osher courses. They returned to the Philadelphia area in March 2019.
Course Title: The Book of Job and the Problem Of Evil (Winter Term 2023)
Participant Testimonials:
Excellent study leader thought provoker. I enjoyed his class, perspective, and exceptional knowledge of the bible. It was a very engaging class.

I thoroughly enjoyed both the course and the teacher. He introduced auxiliary sources, which enriched our reading, and he was a considerate and patient comment listener.

The course exceeded my learning objectives because of the atmosphere of acceptance and interest created by the course leader.
Course Title: A History of Israel and Zionism (Winter Term 2021)
Participant Testimonials:
Rabbi Fuchs has a deep and vast knowledge of the subject material and communicated it effectively to the class. He provided an outstanding and balanced view of the history of
Israel and Zionism.

Alan is a modest national treasure in his field. It's an honor to take his Osher courses.

Alan was outstanding in his presentations, as he always is. His knowledge of the subject matter is extraordinary. Thank you, Alan!