Betsy Vickers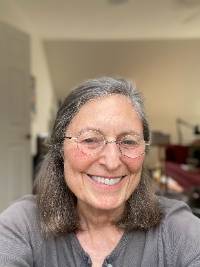 Betsy Vickers is a graduate of Bennington College and has an MFA from The Art Institute of Chicago. She worked previously creating print media and websites for educational programs, with an emphasis on study abroad. She has been dedicated to writing poetry since 1995.
Course Title: Writing Poems/ Making Them Better (Spring Term 2021)
Participant Testimonials:
I wanted to tackle something new, and this course enabled me to do so. I have never written poetry; in an informal, positive environment, this class gave me that opportunity.

Both leaders modeled how to give and receive effective feedback; and through their feedback of our writing, continuously focused on important components of poetry writing.
Course Title: Writing Poems/Making Them Better (Fall Term 2019)
Participant Testimonials:
Instructors focused on importance of improvement and growth in our writing and with that objective in mind, set up a class structure that endorsed that belief.

Beautifully designed and presented.