Charles Bohi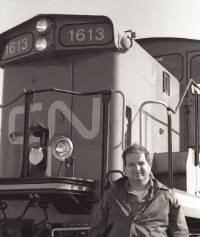 Charles, a retired high school teacher, has photographed railroads since 1961. This passion led to becoming a Fulbright Exchange Teacher in Edmonton and a "visiting scholar" at Brandon (Manitoba) University, where he delivered lectures on western Canadian railroads. He has also taught courses on railroading for OSHER@Dartmouth. In addition, Bohi is author or co-author of four books and numerous articles on railway subjects, gives presentations to groups interested in railroads, and has been a member of the Transportation Committee of the Vermont House of Representatives.



Course Title: Railroading: Glory Days to Glory Days (Winter Term 2019)
Participant Testimonials:
"Chuck is extremely knowledgeable, has good slides, is tech savvy, engages the class."
"The Study Leader's knowledge of the subject was extensive and questions were answered with appropriate details and humor."
"Chuck is very passionate and knows his subject and answers questions well.