David Grant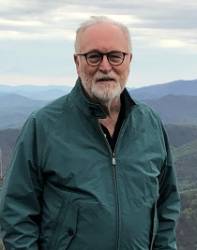 David Grant taught English for twenty years, including at Milton Academy and The Mountain School in Vershire, which he co-founded with his wife Nancy. During his teaching years, he took his one-man show as Mark Twain around the world. From 1998 to 2010, David was President/CEO of the Geraldine R. Dodge Foundation in Morristown, NJ. He moved back to Strafford in 2010, published a guide for nonprofit leaders, The Social Profit Handbook, in 2015 and has served as board chair at Northern Stage.
Course Title: Three by Mark Twain: Has America Been Missed? (Winter Term 2023)
Participant Testimonials:
David is a brilliant teacher with a deep knowledge of the life and writing of Mark Twain. It has been an absolute pleasure to have participated in this course.

David designed this class to lead us on a trip through Twain's development as a writer, using three central books but relating what we read to the rest of Twain's writing and speaking tours.

David deeply understands Mark Twain and uses that understanding to supplement the books, putting them in context and adding information about what was going on with Mark Twain.
Course Title: Robert Penn Warren's All the King's Men (Fall Term 2022)
Participant Testimonials:
A very skillful teacher. Respectful and engaging. Gave everyone a chance to contribute

Fabulous course - perhaps the most enjoyable OSHER course I've taken and I've taken a lot! Bravo David