Dianne Burger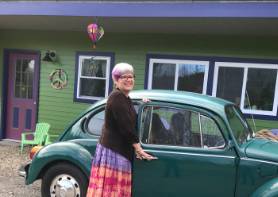 Dianne's love of clay began in 2006 at the Armory Art Center, where she developed her skills through regular classes and the Master Artist Workshop series. Dianne taught Clay Construction at the Armory Art Center and The Pineapple House Ceramic Studio in WPB, FL. Dianne loves the process of bringing clay to life and helping others find that joy when creating their own pieces. Dianne owns and operates Blackberry Hill Art Center in Orford, NH (www.BlackberryHillArtCenter.com).
Course Title: Handbuilding With Clay (Fall Term 2022)
Participant Testimonials:
I will definitely keep an eye out for future offerings that Dianne has.

I didn't read the course description because I was interested no matter what. It was fantastic and Dianne is a terrific teacher with unlimited patience.
Course Title: Hand-Building with Clay Slabs (Fall Term 2019)
Participant Testimonials:
The Study Leader demonstrated ability to engage participants and generate enthusiasm for the subject.

Diane was great- lots of mentoring without hovering. And we made many more works than I expected.