Gary Johnson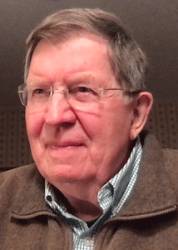 Gary D. Johnson, a retired Dartmouth educator/geologist, specialized in the geologic record of significant paleontological, environmental, and tectonic change. Having been born on the Great Plains and with a great-great-grandfather who was one of the oldest and earliest immigrant homesteaders in the Dakota Territory during the 1860s, his long-standing interest in and connection to the history and economic contributions of the prairie and plains of North America remain a strong personal influence.
Course Title: The Eastern Sahara and the Search for Zerzura (Spring Term 2023)
Participant Testimonials:
Always love Gary's classes.

Very informative and fascinating. His readings and visual aids were superlative.
Course Title: The Great Plains in the American Psyche (Winter Term 2023)
Participant Testimonials:
Gary has educational expertise and a personal connection with the land, expressing its character across both dimensions with spirit.

I have not visited this part of the country. My goal when taking Osher classes is to learn something new. Every meeting brought to life new knowledge and realizations that I had never considered.

Gary ran the class like the seasoned pro that he is. His extensive research and knowledge of the Great Plains are remarkable and made for an engaging style.
Course Title: The Geological Character of the New England Landscape (Winter Term 2019)
Participant Testimonials:
Gary is a wonderful storyteller, very organized, and a real expert in his subject. His knowledge of the matter is deep and thorough.

Gary knows world geology, and his illustrations were excellent. This course couldn't have been better.