Guy Collins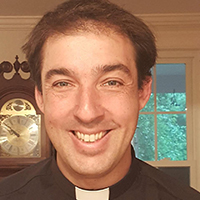 Guy Collins holds degrees in medieval history and theology from the University of St Andrews (Scotland) and the University of Cambridge (England). An Episcopal priest he is Rector of St Thomas Church and Episcopal Chaplain to Dartmouth College. His Ph.D. examined connections between medieval thought and twentieth century Continental philosophy. He is also the author of Faithful Doubt: The Wisdom of Uncertainty and The Goldilocks God: searching for the via media. Guy is looking forward to uncovering 'hidden figures' of the Anglo-Saxon world.
Course Title: The English Reformation (Fall Term 2022)
Participant Testimonials:
We could not have had a more learned instructor. Guy's vast knowledge of the Reformation is remarkable.

The lively discussions indicated that the Study Leader presented the material at hand very well, and was able to raise great interest in the audience.

A thorough research and delivery of a fascinating, important and complex period of English history.
Course Title: Enchanted Spheres: Magic, Science and Theology (Fall Term 2021)
Participant Testimonials:
Fascinating topic that rarely sees the light of day in modern times.

Terrific course that was full of unexpected information. Guy's use of visual materials was very helpful and informative.
Course Title: A Tale of Three Abbeys (Fall Term 2020)
Participant Testimonials:
Guy is an amazing presenter.

Guy is learned and a great communicator. His courses are
always wonderful.
Course Title: Iron Maidens: The Royal Saints of Anglo-Saxon England (Fall Term 2018)
Participant Testimonials:
Guy Collins' courses are always the best there is.

Guy Collins is such an adept teacher that I, for one, would take any course he offered. His organization and presentation were superb, both orally and technologically. Couldn't have been better. His enjoyment of his subject always comes through to his class.