Jeanne Shafer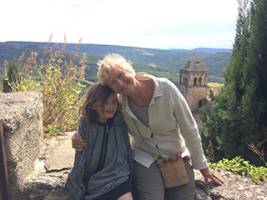 Kudos to the Hood Museum for creating this diverse retrospective during the pandemic. Jeanne welcomes the opportunity to share this comprehensive American collection with her students. She has taught Osher classes for twenty years at the Hood. After receiving a Masters's degree in Art History from Indiana University forty-five years ago, she continues to derive further enrichment from the Hood's exhibitions.

Course Title: The Photography of Margaret Bourke-White (Winter Term 2023)
Participant Testimonials:
Jeanne brings to the course a wealth of knowledge and enthusiasm rich with information and supporting materials on photography. I learned more about the art and skill of photography than I could have imagined.

Jeanne did a fantastic amount of research and preparation for this course. She put extensive effort into ensuring it was engaging and that classmates felt welcome to ask questions.
Course Title: Madayin: Aboriginal Australian Bark Painting (Fall Term 2022)
Participant Testimonials:
Jeanne knows her subject, is open to other's information, and invites class participants to engage.

Knowing little, the course - and Jeanne's exhaustive research and knowledge - met and exceeded my expectations. The bark paintings were the supporting materials, together with the research Jeanne had done and the presentations by class members.
Course Title: "This Land": Artwork from the Hood Museum (Spring Term 2022)
Participant Testimonials:
I wanted to learn more about art, and Jeanne showed me ways to look at art that I would never have known on my own

So much knowledge! Including how paintings were carefully created.