Jerry Monroe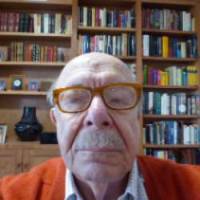 Jerry Monroe is a retired Foreign Service Officer. He has taken a keen interest in the political and economic structures of the countries where he has served over a 38-year career.
Course Title: Socialism, Fascism and Assorted Other "Isms" (Winter Term 2020)
Participant Testimonials:
Jerry is a fine lecturer, and the readings he selected were perfect.

This course exceeded my personal learning objectives and expectations.
Course Title: The Terrible 20th Century (Winter Term 2019)
Participant Testimonial:
The lectures followed the course outline and is relevant today as much as it was during the 20th century. Jerry's subject matter expertise and personal experience make this an especially interesting class.

The leader was well organized and has broad knowledge of the subject. The classes were a pleasure.
Course Title: The Making of a World Power (Winter Term 2017)
Participant Testimonial:
An excellent experience. Jerry had a great grasp of the subject matter, including inside stories from his government state department experiences.

The course was well organized with outlines for each session and related readings. The leader provided valuable insight about events and persons involved.