Jessica Aiken-Hall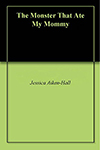 Jessica is the author of an award-winning memoir, The Monster That Ate My Mommy. She is a graduate of Springfield College with a Master's Degree in Mental Health Counseling. She is a Reiki Master, focusing her attention on healing. Jessica was a guest on the Dr. Phil show, where some of her story was discussed.


Book Title: The Monster That Ate My Mommy (2017)
Publisher: Moonlit Madness Press
Available for Purchase: Amazon, Barnes & Noble
Description: Mothers are supposed to love their children unconditionally, but what if they can't? "Your own mother doesn't love you—what makes you think anyone else will?" These words haunted the author and affected every decision she made.