Lynnwood Andrews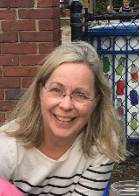 Lynnwood Andrews is a retired clinical child psychologist who volunteered for the Montgomery County Parks Weed Warrior program in Maryland, leading groups pulling nonnative invasives. As a Little Falls Watershed Alliance Vice President, she worked with elementary school teachers and students to establish native plants on school grounds. She has taken botany and plant identification classes at Osher and the Native Plant Trust. She works as a Plant Conservation Volunteer for the Native Plant Trust and is a member of the Norwich Conservation Commission.

Course Title: WinterBotany 2023 (Winter Term 2023)
Participant Testimonials:
The class was fascinating. Lynnwood was very, very knowledgeable and presented the material well. She had examples to show from the library's collection and her own that made it much easier to understand and appreciate how bookbindings are made.

Alice and Lynnwood were both knowledgeable and well-prepared. Even more important, they were great role models in approaching the landscape and studying its species.

Course Title: Fall Botany 2022 (Fall Term 2022)
Participant Testimonials:
They listed plants, answered all questions, and soooo patient with slow walkers like me!

We hiked at various nature preserves and conservation land - all diverse and accompanied by a list of plants with familiar names and botanicals - vetted by Alice and Lynnwood in advance!

I would be happy to participate in this course every season; always more to learn—Alice and Lynwood are wonderfully pleasant, infinite sources of knowledge.
Course Title: Spring Wildflowers and Ferns (Spring Term 2022)
Participant Testimonials:
Alice and Lynnwood have a fantastic depth of knowledge about wildflowers and ferns and can impart that knowledge to their students.

Lynnwood fills in local knowledge and conservation issues that interested me very much.