Maynard Goldman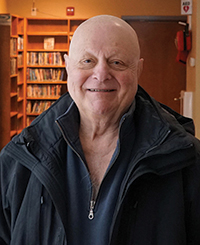 Maynard Goldman is a graduate of the university of Michigan with a B.A. in Political Science, a J.D. from Harvard Law School, and a Certificate from Harvard Business School. A long time political participant on both sides of the aisle, he brings practical political experience together with a knowledge of relevant legal concerns.


Course Title: What's Wrong With The Supreme Court? Plenty (Spring Term 2019)
Participant Testimonials:
"Maynard is an outstanding teacher. If I had more teachers of his caliber, I would have been a better student when I was in school."
"Maynard did a fabulous job balancing class participation and ensuring everyone had a chance to speak. He's well spoken, projects well, very prepared for each class."
Course Title: MARILYN: A Comet Across Our Sky (Winter Term 2019)
Participant Testimonials:
"Maynard does an outstanding job and he has a wonderful personality."
"This class far exceeded what I expected. Maynard is a wonderful teacher and he brought knowledge from extensive research into Marilyn's life to the course. He also has a great sense of humor, which added some lightness to the heaviness of Marilyn's life."
Course Title: Mid Term Madness....The 2018 Elections (Fall Term 2018)
Participant Testimonials:
"Instructor was very well prepared. Good class participation."
"Mr. Goldman did a superb job of presenting "up to date" information on the subject."
Course Title: The Summer of 1941 (Spring Term 2018)
Participant Testimonials:
"The Study Leader collected and used an extraordinary volume of source and teaching materials to bolster the quality of the discussions."
"All classes that Maynard does excel!"
"Study Leader was great; very personable and knowledgeable."
Course Title: Amnesty, Clemency, and Presidential Pardons in the Trump Era (Winter Term 2018)

Participant Testimonials:
"Maynard is a terrific teacher."
"Maynard provided lots of excellent details and new points that I didn't know about and all of this lead to good conversations and questions. The class was very interactive and that is good and points to a good Study Leader and topic."