Maynard Goldman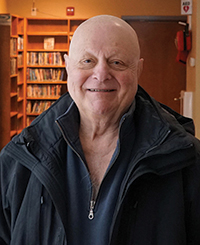 Maynard Goldman holds a B.A. in Political Science and Economics from the University of Michigan; a J.D. Degree from Harvard Law School; and a Certificate from Harvard Business School for completion of an Executive Management Program. A longtime political consultant on both sides of the aisle, he received appointments from Republican and Democratic Governors in both Massachusetts and New Hampshire.
Course Title: Whither the Supreme Court? (Spring Term 2022)
Participant Testimonials:
Excellent presenter! The presenenter is extremely knowledgeable.

Maynard always delivers what he proposes - and this was no exception.
Course Title: The Biden Era—A One Year Report Card and Midterm Prognosis (Winter Term 2022)
Participant Testimonial:
This is the second course I've taken of Maynard's and I am very impressed by his knowledge of the current political situation. He is an excellent presenter.

As usual, Maynard conducted an excellent course.
Course Title: Great Trials of the 20th Century (Fall Term 2021)
Participant Testimonials:
Each week was a new and complex trial. Maynard's knowledge is quite amazing.

As with all of Manard's courses his digressions are meaty and solicit class participation. Well done!!!!
Course Title: The Greatest Show on Earth III: The Primaries (Spring Term 2020)
Participant Testimonials:
Maynard really followed his syllabus and covered everything nicely.

Maynard is always on top of the latest news and applies his legal expertise to these current events.
Course Title: What's Wrong With The Supreme Court? Plenty (Spring Term 2019)
Participant Testimonials:
Maynard is an outstanding teacher. If I had more teachers of his caliber, I would have been a better student when I was in school.

Maynard did a fabulous job balancing class participation and ensuring everyone had a chance to speak. He's well spoken, projects well, very prepared for each class.