Moby Pearson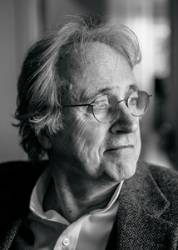 A graduate of Oberlin Conservatory, violinist Moby Pearson has performed with chamber ensembles and orchestras for over 45 years. He has toured the great concert halls in Europe with the Orpheus Chamber Orchestra and coached student ensembles in the middle east as a member of the Apple Hill Chamber Players. Presently he resides in Brattleboro and is on the faculty of the Brattleboro Music Center, where he teaches, conducts, and offers courses in music appreciation.
Course Title: Music Appreciation (Winter Term 2023)
Participant Testimonials:
Moby Pearson has an excellent background in music. He was organized and shared his music knowledge and personal experiences with the class. His presentations were low-key and a delight.

More than! I wanted to expand my knowledge and explore music I was unfamiliar with. The course achieved these personal goals way beyond what I expected.

I could listen to Mob Pearson - and the music he shared with the class - all day!



Course Title: Music Appreciation (Fall Term 2022)
Participant Testimonials:
Moby is a gem. He has tremendous knowledge about music - types of classical music, instruments, various orchestras, conductors, and composers

Always good to sit in Moby's classes and listen to good music. He used mostly his own recordings, and they were flawless.
Course Title: Not Your Usual Music Appreciation (Spring Term 2019)
Participant Testimonials:
I loved every minute of this delightful course and learned so much. Moby brings such a wealth of musical knowledge and experience to the class, and I especially enjoyed the eclectic weekly themes. He is an outstanding instructor!

He quietly demonstrated great knowledge of the music without overwhelming us with technicalities.