Patti Warren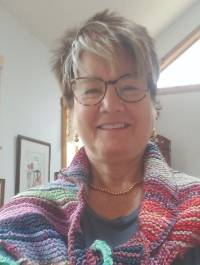 Patti Warren is a retired art teacher and elementary school principal. She is very happy to be teaching art again and specializes in watercolor. She loves finding grace and beauty in everyday items, which translates well to journaling.
Course Title: Tear It Up 2: Multi Media Collage with Gael and Patti (Spring Term 2023)
Participant Testimonials:
Patti and Gael are so knowledgeable and bring many examples of work. They also provide a vast amount of materials for us to us.

Both Gael and Patti are very well versed in all the projects we did, and had all the materials needed.
Course Title: Let's Tear It Up: Multi-Media Collages with Patti and Gael (Winter Term 2023)
Participant Testimonials:
Once again Gael and Patti have offered a fun, inviting, uplifting learning experience. They are so welcoming and inclusive, it is a joy to be in their classes.

I really enjoyed making a collage booklet with pamphlet stitch as our final project. This was a delightful surprise, I'd like to create more of these.

Course Title: Here and There: The Traveling Sketchbook Journal (Fall Term 2022)
Participant Testimonials:
I enjoy the atmosphere in Patti and Gael's classes. They are supportive, friendly and knowledgeable.

Gael and Patty are a wonderful duo. They are great fun to learn from. I have enjoyed all of their classes.

Course Title: Painting a Watercolor Winter (Winter Term 2022)
Participant Testimonials:
She's a great teacher, listens well, slows down when needed, goes out of her way to make sure we can see what she's doing.

Each time I take a course with Patti I learn something completely new.