Pete Bleyler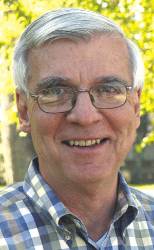 Pete Bleyler has been a member of ILEAD/Osher for over 20 years, and co-led the Great Decisions Course with Jim Wooster for 10 of those. He was President of ILEAD during the two years we became part of the Osher institutes, and co-led the Summer Lecture Series from 2016 to 2019. He's a graduate of Dartmouth, spent five years in the US Navy submarine force, and over 30 years as a consulting actuary. He and his wife, Ruth, have been married for 61 years and live in West Lebanon.



Course Title: Hiking NH 4,000 footers + White Mountain History
Participant Testimonials:
Great course! It brought back many lovely memories of hiking in the Whites.

Pete had personal experiences which made the topic of the day even more informative.
Course Title: Hiking New Hampshire's 48 4,000-Footers (Fall Term 2022)
Participant Testimonials:
Exceeded my expectations. The videos were very informative, putting me on the trail, and seeing some of the views from the mountain tops. The lectures also provided useful information on the AMC cabins, trail safety and conditions of the trails.

Pete knew the subject matter inside and out.