Peter LaBelle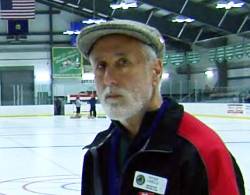 Peter began curling after retirement from a boring career as a tax attorney and accountant. He curls with the Upper Valley Curling Club based in White River Junction and is a Level One instructor, certified by U.S.A. Curling. When not curling, Peter volunteers with several local charities and is an elected town auditor in Cavendish, Vermont. Several other club members with similar curling experience and skill will assist him with this class.
Course Title: An Introduction to Curling (Fall Term 2021)
Participant Testimonials:
Thoroughly enjoyed this course, all the instructors were terrific, loved the time on the ice to practice and getting a full game in for the last session. Can't say enough about how great this course is, well done!!

Questions were encouraged. Answers to questions were clear. The instructors provided a comfortable environment conducive to learning.
Course Title: Introduction to Curling (Winter Term 2019)
Participant Testimonials:
It was more than I had ever dreamed. Beautifully paced and very student friendly.

This course was excellent! The Study Leader and others members of the local curling club did an excellent job explaining and coaching.