Richard Crocker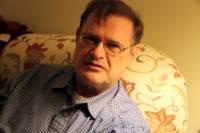 Richard Crocker, chaplain emeritus of Dartmouth College and Emeritus Dean of its William Jewett Tucker Foundation, has taught courses at Dartmouth and at OSHER@Dartmouth for years. He offered a course at Dartmouth on Happiness before the current craze began.
Course Title: The Hype About Happiness - or "Is Happiness Really a Decision?" (Fall Term 2018)
Participant Testimonials:
"Excellent blend of didactic, class discussion, experiential experiences. Instructor was well educated and was gifted in engaging participants with the material."
"Richard was very knowledgable on the topic but always accepting of other opinions and open about his own sources of happiness"
Course Title: Writing a Spiritual Autobiography
Participant Testimonials:
"Richard is an excellent facilitator. He made sure we knew what was expected from us in terms of respectful participation and clarifying assignments. He did a good job keeping people to time limits, and was very thoughtful in his comments on individuals work."
"The Study Leader was excellent. His background and past roles in the community seemed to create an atmosphere of security and confidence in the process the members of our class were undergoing and was essential for the participants as a group."
"Richard did an excellent job leading and keeping us on track in order that we could explore and share our experiences as honestly and well as we did. He set a tone of respect throughout."