Sarwar Kashmeri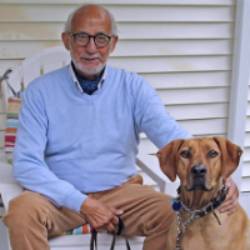 Sarwar Kashmeri is an international relations specialist, author, and commentator, noted for his expertise on U.S. global strategy and national security. He is the host of Polaris-Live, featuring 30-minute live conversations on the business and geopolitical impact of China's rapid rise to superpower status. China's Grand Strategy: Weaving a New Silk Road to Global Primacy, his third book, was published in July 2019. Kashmeri is the author of 2021 report "The Telegram: A China Agenda for President Biden," for the Foreign Policy Association. (No cost download at www.kashmeri.com.)
Course Title: U.S. and CHINA in a New World (Spring Term 2022)
Participant Testimonials:
There is no one better than Sarwar.

This course was extremely organized with excellent speakers brought in to enhance the program.
Course Title: A China Agenda for the Biden Administration (Spring Term 2021)
Participant Testimonials:
The class did what it said it would and more, as Sarwar attracted a diverse and knowledgeable group of lifelong learners.

I have taken all of Sarwars's courses since he first appeared on the scene. All of his courses are outstanding, well prepared and engaging.
Course Title: China's Grand Strategy: COVID-19 Update (Spring Term 2020)
Participant Testimonials:
Sarwar Kashmeri is one of the best OSHER study leaders!!!

Sardar was the perfect diplomat, encouraging talk,actively listening and encouraging responses to points raised by students.
Book Title: China's Grand Strategy: Weaving a New Silk Road to Global Primacy (2019)
Publisher: Praeger
Available for Purchase: Amazon
Description: In the "Great Game" of the 21st century gaining leadership and influence in Asia the United States is rapidly being outflanked by China, which is investing in infrastructure, connectivity, and supply chains on an unprecedented global scale.