Sarwar Kashmeri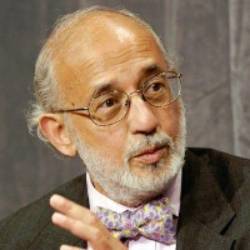 Sarwar Kashmeri is adjunct professor of Political Science and Applied Research Fellow, Norwich University and Fellow, Foreign Policy Association. A current affairs commentator, columnist, and author of two books (NATO 2.0: Reboot or Delete? and America & Europe After 9/11 and Iraq; The Great Divide), Kashmeri speaks frequently before business, foreign policy, and military audiences.

Course Title: The 21st Century's Great Game: United States and China in Asia (Spring Term 2018)
Participant Testimonials:
"Sarwar is masterful in his ability to manage discussion giving everyone a chance to speak. He also crafty keeps the discussion politically balanced which is not easy to do with OSHER@Dartmouth students."
"Sarwar is an outstanding teacher, with the ability to inspire and motivate discussion."
"Always interesting and enlightening."
Book Title: China's Grand Strategy: Weaving a New Silk Road to Global Primacy (2019)
Publisher: Praeger
Available for Purchase: Amazon
Description: In the "Great Game" of the 21st century gaining leadership and influence in Asia the United States is rapidly being outflanked by China, which is investing in infrastructure, connectivity, and supply chains on an unprecedented global scale.