Susan Edwards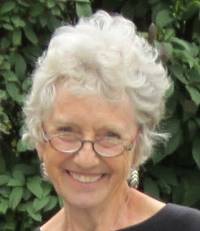 Susan, born in wartime England when gardening meant food, has always gardened and, over the last 48 years, has created an oasis of joy around her Hanover home. Now retired, she worked as an educator with thousands of parents-to-be at DHMC for many years. Gardening time was short during those years with a husband and two active daughters, but the garden was her grounding space. An active member of Hanover's Garden Club and Sustainable Park Committee, her gardening involvement is community-wide.
Course Title: Creating a Garden to Love (Spring Term 2023)
Participant Testimonials:
The instructor made an effort to address the specific questions of each student. They shared so many valuable tips to help a gardener to be successful.

I had hoped to learn more about gardening from Susan. She exceeded my expectations.

Susan did not lecture; instead, she invited us to enjoy her beloved garden.
Course Title: Creating a Garden to Love (Spring Term 2022)
Participant Testimonials:
Susan is an inspiration. Her course was just what I hoped it would be ... informative ... with lots of visuals of her garden.

Excellent, thoughtful, and generous- Susan made everything work!