Susan McCaslin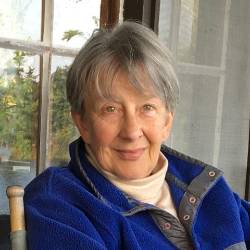 A graduate of Smith College and Harvard Divinity School, Susan McCaslin spent her career as a teacher and educational administrator, first at Harvard Divinity School and then for 27 years at Phillips Academy where she taught in the Philosophy and Religious Studies Department and served as academic dean and associate dean of faculty. She continues to be an active scholar and teacher (this is her fifth Osher course in religious studies).


Course Title: The Book of Job (Spring Term 2022)
I'd come back for anything Susan teaches!

Susan was masterful in moving the class along the relevant discussion points. The amount of material to read was reasonable given the difficulty of the poetic language and the complexity of the issues involved.

Course Title: Absalom, Absalom! (Winter Term 2022)
Participant Testimonials:
This is/was the best Osher course I've taken: Jon and Susan guided us through Faulkner's complex novel,, allowing discussion to flow seamlessly.

A truly wonderful academic experience.
Course Title: The Book of Job (Winter Term 2021)
Patricipant Testimonials:
Very organized, very well researched, very well planned.

Susan is an excellent teacher, she is an expert of her subject.
Course Title: In the Beginning: The Book of Genesis (Winter Term 2020)
Participant Testimonials:
Susan is very well versed in her subject and encouraged the participants to engage with the subject matter.

Absolutely. Susan knowledge of Genesis and relevant interpretations was outstanding.
Course Title: Reconsidering David (Spring Term 2019)
Participant Testimonials:
The leader is excellent. Presentation, dealing with comments and questions all were 'in tune.'

Susan was well organized and very knowledgeable. She provided study guidelines and spurred thoughtful discussion.