Terrance Darcey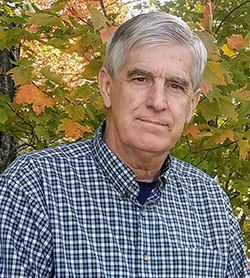 Terrance Darcey, Ph.D, retired from Dartmouth and DHMC in 2015. During his career, he did academic work including research and teaching in bio-medical engineering and neuroscience. He is spending his retirement catching up on things he missed out on in his work life, including creative writing, literature, arts and music. He and his wife Banisa live in Thetford VT.

Course Title: The Short Stories of William Trevor (Fall Term 2018)
Participant Testimonials:
"Terrance chose well among the Trevor stories, and led most interesting discussions."
"Terry was a terrific class leader. He was well-prepared, inclusive and respectful of all participants."