Thomas Burke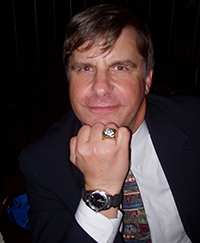 Tom Burke is a freelance writer, writing tutor, and history enthusiast who has developed a deep personal interest in the Holocaust. He recently published the life story of Mary Wygodski, a Holocaust survivor and spokesperson. He conducted several years of research on the Holocaust in order to do Mary's story full justice. He has developed this course in order to share and discuss his findings and his ongoing research with those who are interested in knowing more about The Holocaust.
Burke, T 2021, Evil Must Not Have the Last Word: The Life of Mary Wygodski; Holocaust Survivor, Mother, Teacher, & Witness, Veteranscribe Press. Purchase through Amazon.
Course Title: Perspectives on the Holocaust (Fall Term 2021)
Participant Testimonials:
Tom was extremely well prepared, understands his subject, had done an incredible amount of research, and the presentation was very professional and perfectly timed for the allotted time.

Tom presented an amazing amount of information each week that demonstrated a vast amount of research. All well presented and organized. This was one of my favorite Osher courses which I never thought I could say about a subject like the Holocaust.
Course Title: Perspectives on the Holocaust (Spring Term 2021)
Participant Testimonials:
The course was fantastic. Mr. Burke did an excellent job and showed vast knowledge of the subject. I greatly appreciated his dedication to keep the memory of the Holocaust alive. Great teacher.

Tom is an expert on this subject with out a doubt.
Course Title: Perspectives on the Holocaust (Spring Term 2020)
Participant Testimonials:
Exceptional instructor; knew his subject matter.

Very knowledgeable on the subject and very thoughtful and organized on how he presented the material
Course Title: The Holocaust: Origin, Planning, Execution, and Its Echoes Today (Spring Term 2019)
Participant Testimonials:
Tom is well read and is well spoken. He shares the information thoroughly and pointedly offering short but specific examples of material he is covering.

Tom Burke is a terrific scholar and teacher. He was so organized and kept us riveted with all the facts and stories he was telling us. I don't always take notes in classes, but I did here because there was a lot I want to remember.