Faith Catlin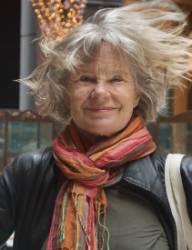 Faith Catlin lives in Lyme with her husband, John Griesemer. Since moving to the Upper Valley, Faith has acted and directed at Northern Stage and Parish Players. She and John are part of a local film collective that has created six movies, many of which have been screened at the White River Independent Festival. In NYC, Faith is a member of the Playwright's Gallery and serves on the board of Rattlestick Theater. She is also a licensed clinical social worker and psychotherapist.
Course Title: Greek Myths, Again (Winter Term 2022)
Participant Testimonials:
Enjoyable lively interchange with very knowledgable class members.

From Gaea and Ouranos to the Titans and Kronos to the second generation Titans and the Gods and Goddesses we stayed true to the beginning of Greek Mythology
Course Title: Honoring the Work: Studs Terkel's Working (Winter Term 2019)
Participant Testimonials:
The four co-instructors were each well prepared in their area of expertise.

Excellent instructors, enthusiastic and good at team teaching. Great reading (Terkel: Working). I have a better appreciation of the possibilities and value of oral history. I am inspired, and intend to pursue more oral histories going forward.