Richard Neugass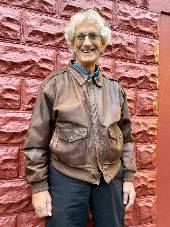 Richard Neugass, 1968 graduate of Amherst College with a major in political science, recently taught an Osher Zoom course on The 1936 Olympics: SPORTS and POLITICS. This course is an extension of that theme to other sports and cultures. Maynard Goldman holds a BA in Political Science and Economics from the University of Michigan; a JD Degree from Harvard Law School; and a Certificate from Harvard Business School for completion of an Executive Management Program.
Course Title: The 1936 Berlin Olympics: Politics and Sport (Fall Term 2021)
Participant Testimonials:
I was surprised by how much I didn't know about the '36 Olympics and Nazism. This class greatly broadened my knowledge and stimulated within me lines of thought and questions.

Richard was personable, responsive and respectful. He was entirely professional. He enlisted many of the participants to do mini-presentations, which worked beautifully.
Course Title: History of Film Festivals (including Telluride) (fall Term 2019)
Participant Testimonials:
Very interesting course. The discussion that I was able to attend wasstimulating and gave me some insights into the films that I'd already seen.

A very good idea for a course Richard since dialogue is what the Telluride festival is all about.